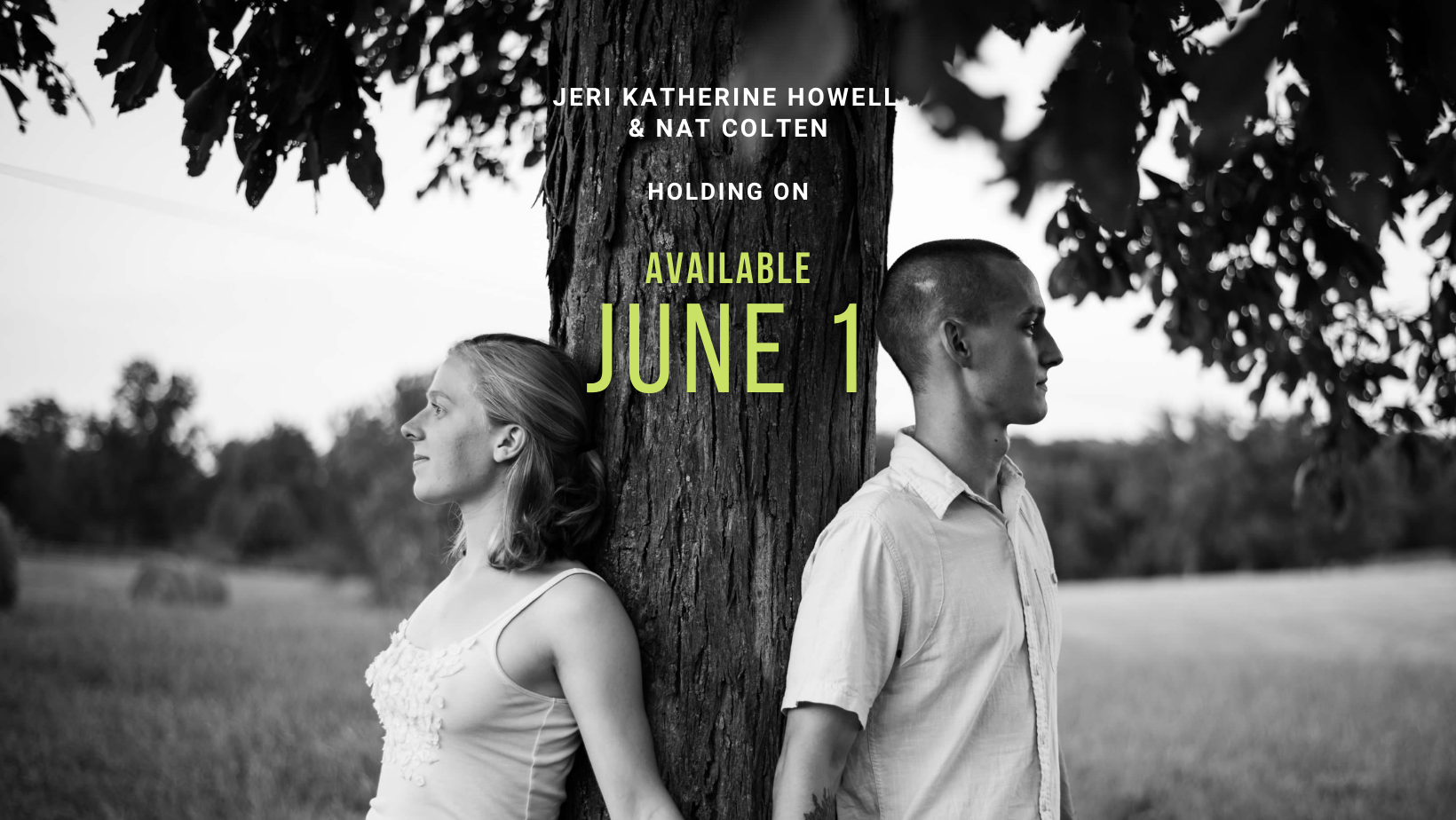 DEBUT DUO ALBUM NOW AVAILABLE: HOLDING ON 
JERI KATHERINE HOWELL & NAT COLTEN 
AVAILABLE AT JERIKATHERINEHOWELL.COM/STORE 
& WHERE MUSIC STREAMS 
---
Frankfort Singer-Songwriters Jeri Katherine Howell And Nat Colten Announce Debut Duo Album 
By Emma Comery 
Local singer-songwriters Jeri Katherine Howell and Nat Colten are thrilled to announce their debut duo album, Holding On, which drops today - June 1, 2021. 
Though the couple -- in music and life -- has performed together for years and previously collaborated on a track for Jeri Katherine's 2013 album, Collage, this new album marks their first duo project, and is Nat's debut album as a singer-songwriter. 
Written over several years of travelling and living in different states and countries, the songs of Holding On reflect on what it means to come back to Kentucky and do just that -- hold on to their hometown, the land they live on, each other, and community amid times of chaos and difficulty. 
"We pulled the album together after we came back from living in Costa Rica and made the intentional decision to root in Kentucky and make music here," Jeri Katherine says. "It was an exhalation." 
Composed of five tracks written by Jeri Katherine and five by Nat, Holding On celebrates the duo's connection to place and community. The album includes songs written across several years and sometimes even across different continents, but the resulting work is a seamless reflection on the interconnection and interdependence of nature, self, and community, with threads of social and environmental justice. 
"It's very much a homecoming album," Nat shares. "It's about what home means to me, and the people and places I've grown up around and how they've contributed to my heart." 
Born and raised in Frankfort, Jeri Katherine and Nat grew up on bluegrass, Appalachian, country, classical, and world musical traditions, and they sow seeds of each into their own lyrics and melodies to create a signature Folk/Americana sound. With Howell on guitar and Colten playing banjo, their vocals pour out like bourbon and Ale-8 -- a sweet burn, mixed well and meant to be. 
Holding On was recorded on Jeri Katherine's former family farm in Frankfort, a place of deep significance to both Howell and Nat as children and adults. The project features musical accompaniment from an array of talented Kentucky artists -- Jordon Ellis (drums, recording, mixing), Ellie Miller (fiddle, viola), Nathan Link (bass), and Braden Urevick (guitar). The album was mastered by Justin Perkins of Mystery Room Mastering in Wisconsin. Frankfort photographer Joa McDaniel shot the cover art beneath an old shagbark hickory on the former family farm. 
After over a year of writing and recording at home, Jeri Katherine and Nat are excited to return to the live music scene with a summer-long series of monthly Friday-night performances at West Sixth Farm in Frankfort. The farm is also hosting the CD release show on Friday, July 9, at which the musicians featured on the CD will perform together on a live stage for the first time. These shows are 7-9 PM and are free and open to the public. 
Holding On drops TODAY - June 1, 2021 - and is available for purchase at jerikatherinehowell.com/store. You can also listen where music streams and purchase a CD at Poor Richard's Books in Frankfort.