As a Fulbright alumna, I teamed up with Dr. Elliot Gann, Executive Director of Today's Future Sound (TFS), to write a USDS Alumni TIES grant to launch HeartBEATS, an innovative and trauma-informed Hip Hop and beat making youth development program for middle and high school students at The Kings Center in Frankfort, KY. Elliot brings the Hip Hop, beat making, mental health and youth development expertise. I bring the local knowledge, grant writing and program development interest, and drive to bring more creative youth development opportunities to Frankfort. Learn more in our State Journal article.
In addition to the grant, local partners include Frankfort Independent Schools, Hands Healing HeArts, South Frankfort Presbyterian Church, Kentucky State University Music Department, Downtown Frankfort Inc., Scott Tippet and the Franklin Co. Agency for Substance Abuse Policy. Would you like to support HeartBEATS? Any amount helps. Donate today on our GoFundMe. THANK YOU!
In less than ONE WEEK, Elliot and TFS Senior Instructor Elwin Williams III will be in Frankfort to train local artists in Hip Hop pedagogy and how to implement HeartBEATS. Elliot will also be facilitating two community workshops on October 30 and November 1 from 5:30 to 7:30 PM in the Paul Sawyier Public Library Community Room. If you want to learn more about the psychology behind the power of music...check this out.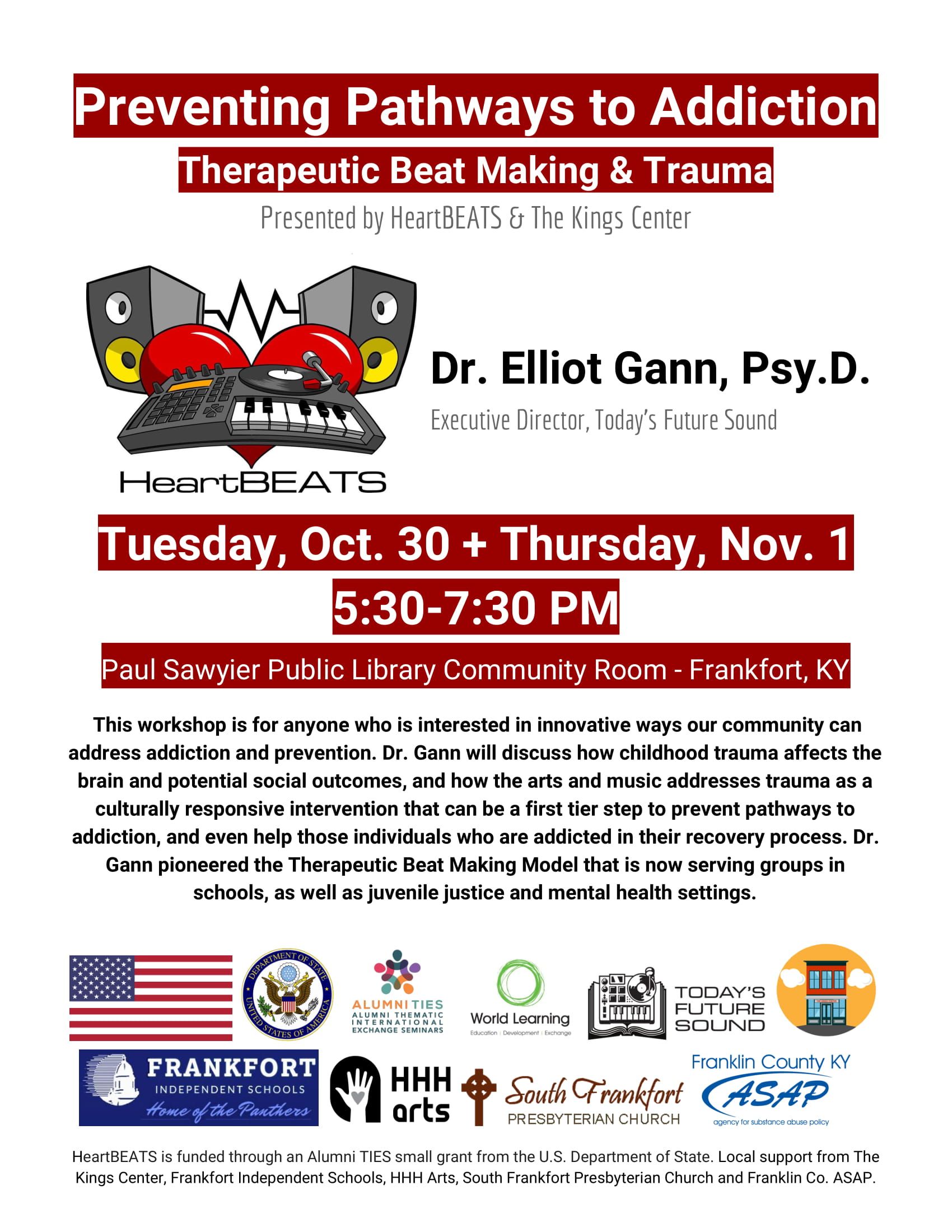 Follow the project by liking our Facebook Page and Instagram @heartbeatsfrankfortky.
There are several ways you can support HeartBEATS: 
Make a donation. We need sustainable funds to keep this going. Email me for details.

Invite friends & colleagues to one of the community workshops

Like our Facebook Page & share the page on your wall

Follow us on Instagram @heartbeatsfrankfortky  
Thanks, friends! The journey continues... 
Best wishes to you and yours,
Jeri K.